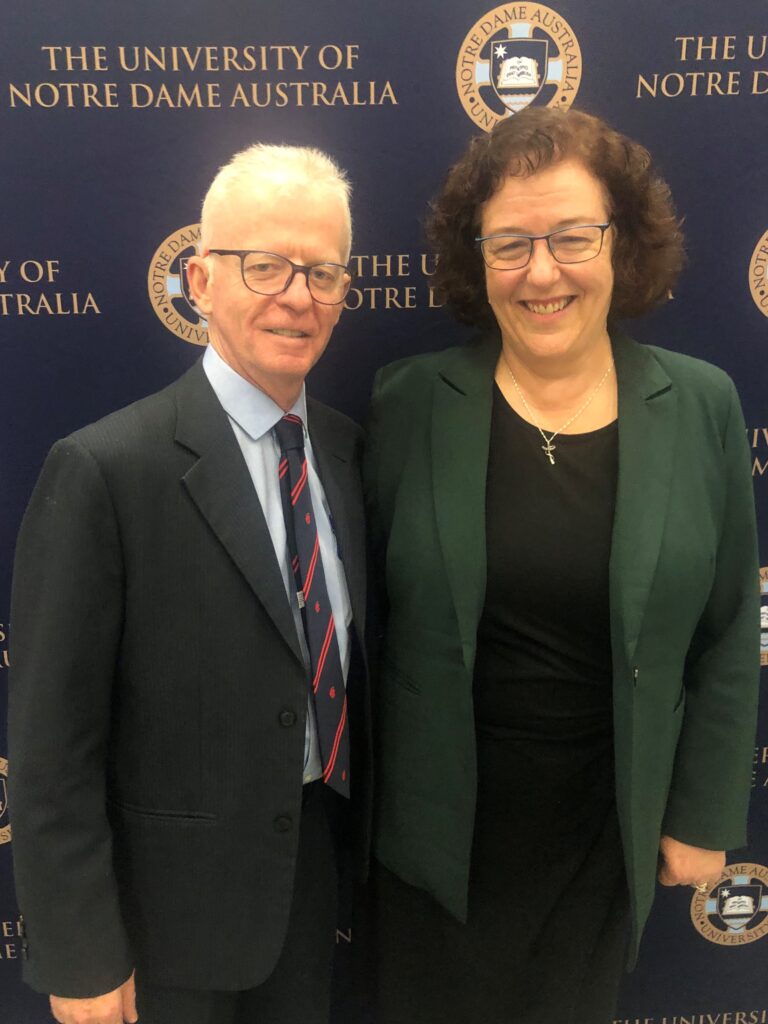 National Catholic Education executive director Jacinta Collins has been awarded an Honorary Degree, Doctor of Letters, from the University of Notre Dame Australia (UNDA) in recognition of her contribution to public life serving the community and for her work advocating for Catholic education and, more broadly, Catholic social teaching.
The award was conferred on Jacinta at this week's graduation ceremony for students from UNDA's Faculty of Arts, Sciences, Law & Business and the Faculty of Education and Philosophy & Theology in Sydney.
Jacinta, who was joined at the ceremony by her husband Daryl Blake, family and friends, said she was privileged and deeply honoured to receive the Honorary Doctorate.
In her address to graduating students Jacinta said her sense of justice and early working life had exposed her to Catholic social teaching and the dignity of meaningful work.
"As you make your next steps into the world, go out and find your gift and what activates you to make a meaningful contribution and discover what ignites your passion, hone and master your passion and put it to good use in the world," Jacinta said.
"Passion is a key ingredient for success in life and work, but it's not the only ingredient. As I found with my parliamentary colleagues and in my work before and since, co-operation and working towards the meeting of ideas and practice, is a critical component of making a meaningful contribution."
As a former politician, Jacinta served as a Labor Senator for Victoria from 1995 to 2005 and again from 2008 to 2019; a career of more than 20 years in the Australian Parliament.
During that time, she served as the Minister for Mental Health and Ageing as well as Labor's Deputy Leader in the Senate and Manager of Government Business in the Senate. As Assistant Minister for School Education and Workplace Relations from 2010 to 2013, Jacinta played a key role in the Gonski school education reforms and was a strong advocate for funding for all schools.
Jacinta holds a Bachelor of Arts from Monash University and a Bachelor of Social Work from La Trobe University, both in Melbourne. Before entering Parliament Jacinta was a social worker and welfare officer.
She was appointed NCEC executive director in February 2019 with responsibility for advocacy and liaison with the Australian Government and key education authorities, to better support the needs of almost 800,000 students and 1,760 schools through funding, policy and strategic direction.
In conferring the Honorary Doctorate, UNDA chancellor Chris Ellison said Jacinta had dedicated most of her working life to public service and is passionate about ensuring disadvantaged children have access to quality education.
"Jacinta is a tireless champion for equitable and accessible education and has a deep understanding of the values that underpin a Catholic education," he said.
"She has supported the University by expanding our relationship with the NCEC, most notably through support of the development of the University's new Centre for Excellence in Catholic Education. We are
delighted to recognise her decades of exceptional work and service to the Australian public and the education sector."
Read the full address by National Catholic Education executive director Jacinta Collins to the graduating students from the University of Notre Dame Australia's Faculty of Arts, Sciences, Law & Business and the Faculty of Education and Philosophy & Theology.
Images top row: National Catholic Education executive director Jacinta Collins receiving her Honorary Doctorate from UNDA chancellor Chris Ellison.
Middle row: Jacinta Collins with UNDA vice chancellor professor Francis Campbell, UNDA chancellor Chris Ellison and UNDA executive dean professor Martin Drum; Jacinta Collins with Auxiliary Bishop of Sydney Richard Umbers and Catholic Schools NSW CEO Dallas McInerney.
Bottom row: Jacinta Collins with husband Daryl Blake, Jacinta Collins with daughter Madison Blake and granddaughter Sophia Crewther; Jacinta Collins and Senator Deb O'Neil.