National Catholic education executive director Jacinta Collins speaking at this week's Catholic Education WA 2023 Leaders' Forum.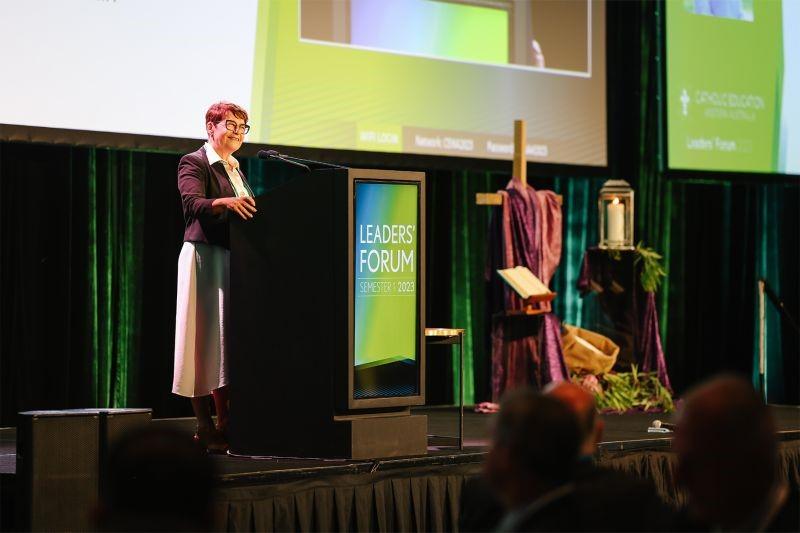 National Catholic education executive director Jacinta Collins joined Catholic education leaders from across Western Australia at this week's Catholic Education WA 2023 Leaders' Forum.
The Perth meeting attracted more than 400 principals and senior leaders from Catholic education schools and offices.
Delivering her keynote address, Jacinta said the forum was an opportunity to reflect on Catholic educations' response to the resolutions of the Plenary Council of Australia and to renew the focus on the educational mission of the Church.
"The National Catholic Education Commission's response will be set within our strategic priorities to enrich the faith lives of students, support the continual improvement of student learning outcomes, and improve access to Catholic education to all students," Jacinta said.
"As part of our response to the Plenary Council, Catholic education will continue to identify and respond to the needs of Catholic schools in Australia; build partnerships which enhance the vision of Catholic education as an instrument of evangelisation and support formation opportunities.
"We will continue to offer a process for critical reflection and discernment of the vocation of Catholic education today and assist parish engagement with schools and young people," she said.
"The NCEC will continue its strong focus on addressing issues of access to Catholic education for families, particularly those from disadvantaged backgrounds – financial hardship, increased services and schools including advocating for fairer recurrent and capital funding and improving access to, and increasing the number of, early childhood education and care services."
Jacinta also gave an update on the Australian Law Reform Commission's (ALRC) proposed changes to the anti-discrimination laws.
"The ALRC's proposals, if adopted, would remove or severely restrict the ability of Catholic schools to prioritise the employment of staff and enrolment of students from our faith background, or to operate and teach in accordance with our Catholic ethos," Jacinta said.
"To be very clear, Catholic schools do not, and are not seeking to discriminate, against individuals based on their personal attributes such as sexuality and gender identity. However, we do want to ensure that those who work and learn in our schools are supportive of a Catholic education."
Jacinta also visited three Catholic schools in Perth: St Jude's Catholic Primary School, Langford; Lumen Christi College, Martin; St Francis' School, Maddington.
"One of the best parts of my job is to visit our school communities across Australia and to have the opportunity to speak with students and staff about how they are realising the mission of Catholic education," Jacinta said.
"It was wonderful to meet with principals, teachers, and students from each of the schools and to hear about the great work occurring inside and outside the classroom."